November 2, 2023
Contact: Erin Lyden, erin.lyden@galepartners.com
Milk Bar X Got Milk? Partner To Launch Limited Edition Holiday Milk Collection
A Festive Collection of Signature Milk Flavors Available In-Store and Online For the Holiday Season
New York, NY (November 2, 2023) – This holiday season, the award-winning bakery, Milk Bar, and iconic got milk? are teaming up to release a limited edition, signature Holiday Milk Collection. An homage to Milk Bar's beloved Cereal Milk, the Holiday Milk Collection is a capsule collection of entirely new, limited-time flavors – Apple Cider Donut Milk, Pumpkin Cinnamon Milk, and Sugar Cookie Milk – all specifically crafted using real dairy milk.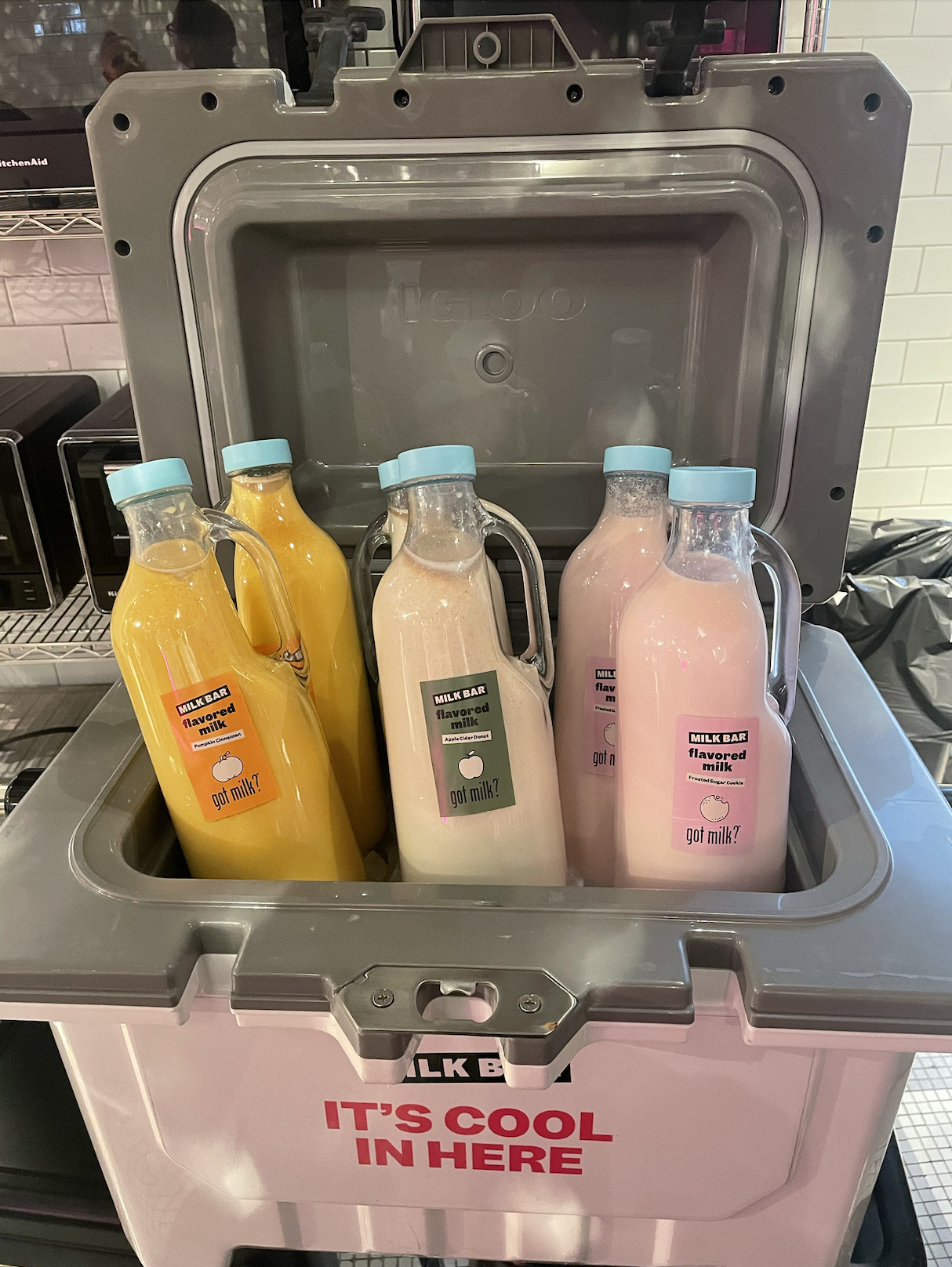 Designed by Christina Tosi's talented team, the Holiday Milk Collection is a best hits compilation of the flavors of the season, enhanced by the uniquely creamy richness of dairy. For those in New York and Los Angeles, the Holiday Milk Collection will be available in the flagship locations, while those who are home for the holidays can also take part in the magic of this milky goodness by ordering the Holiday Milk Collection DIY gift set online at MilkBarStore.com. Available for nationwide shipping, the Holiday Milk Collection gift set includes all the materials needed to create the trio of festive milk flavors from the cozy comfort of home, along with 6 classic Milk Bar cookies designed to pair perfectly with each signature milk.
"We are so excited to be working with the OG got milk?! When we opened the doors to our bakery 15 years ago, one of the biggest sellers was our pints of flavored milk and folks have been begging us to bring them back ever since!" says Milk Bar Founder Christina Tosi, "We are thrilled to introduce our Holiday Milk Collection – and give fans the opportunity to re-create these unique flavors at home this holiday season!"
Whether you are looking for a DIY activity to enjoy with friends and family this holiday season or a unique gifting item for the foodie in your life, the MIlk Bar x got milk? Holiday Milk Collection is the perfect holiday pick.
"We are huge fans of Milk Bar Cereal Milk and excited to be partnering with Milk Bar and Christina Tosi's team to explore new flavors inspired by the holidays – all of which are enhanced by real milk" adds MilkPEP CEO Yin Woon Rani.
Starting November 2, 2023, the Holiday Milk Collection will be available in both the NYC and LA Milk Bar flagship locations and the Holiday Milk Collection kit will be available on www.MilkBarStore.com for $49 USD.
'Tis the season to be dairy!
About Milk Bar
Milk Bar is a sweet shop that's been turning familiar treats upside down since 2008. Founded by James Beard Award-winning pastry chef Christina Tosi, Milk Bar first opened its doors in NYC's East Village, and has developed a loyal fanbase in the fifteen years since. Named one of the most innovative companies in the world by Fast Company in 2022, Milk Bar is currently available across 12 bakery locations in NYC, LA, Washington DC, Las Vegas and Seattle, ships treats nationwide through an eCommerce care package platform, and most recently launched a line of grocery products, available nationwide in major retailers such as Whole Foods and Costco. Milk Bar is also available on demand in various cities across the country in partnership with delivery providers such as Doordash. For more information, visit milkbarstore.com. 
About got milk? / MilkPEP
This partnership is created by MilkPEP. The Milk Processor Education Program (MilkPEP), Washington, D.C., is funded by the nation's milk companies, and dedicated to educating consumers and increasing consumption of fluid milk. The  got milk? campaign is dedicated to creating unique and innovative ways to highlight the goodness of dairy milk and dairy milk's inherent nutritional benefits. When it comes to culture, gotmilk? is synonymous. What once began with the legen-dairy milk mustache has transformed into an iconic tagline. Today, got milk? represents a new era and a new generation. From fashion, food and entertainment, got milk? is about generating cultural conversation that drives reconsideration for good old fashioned dairy milk.